I find independent ways of showing work and these seem more interesting for me than mainstream options. I have used many different spaces to compliment and extend pieces I've made and I sometimes collaborate with performers to welcome audiences in new and (hopefully) exciting ways.
John Bentley has a great DIY punk manifesto that I reach for whenever I lose my way and this has kept me happily off the beaten track for many years, and he kindly said I could put it on this website.
My studio is in a shed and I love going camping, so maybe this is why I often show my work in sheds or tents… or out in the woods… Anyway, whatever the reason, here are some of the ways.
The Tragic and Disturbing Tale of Little Lupin is an outdoor promenade theatre performance which tells the tale of a girl who is not like others and how life in the wild can take unexpected and sometimes rather unpleasant turns. With its roots in the dark, rich soil of fairy tales the show is for people who have ever strayed off the beaten path and into the woods…
Little Lupin was commissioned by Theatre Bristol, Bristol Old Vic, and the Bristol Do with support from Without Walls and Arts Council England. Three unusually hairy sisters lead the audience through a series of scenes, drawing them deeper and deeper into their off kilter world.
They are trained in the ways of the pack and at times become surprisingly wolf-like themselves.
What audiences said about Little Lupin
'I think it's the best time I've had at the Old Vic without a doubt! How many evenings do you get to howl in the woods, IN COMPANY!!! Thank you all sooooo much for such a consummately brilliant performance that has you warmly held at its heart!'
'Loved the show! Really inspired and inspiring…just what theatre should be like all the time.'
'I just didn't want the show to end – I felt so included.'
'Loved it. I've known my parents for 34 years and we've never howled together before tonight. What fun!'
'I howled my heart out at Little Lupin on Friday eve – highly recommended.'
'Little Lupin is an absolutely breathtaking experience. I feel I belong now (whimper)'
The audience arrive at a showman's tent where they are seated together in the dark and offered a selection of curious refreshments.
They witness the usherette's popcorn tray magically transform into one of the smallest cinemas in the world, and crimson curtains draw back to reveal a beautifully hand drawn animation accompanied by a original score.

Trailer for Little Lupin, narrated by Ali Hughes
Little Lupin toured nationally to festivals and theatres including Lakes Alive, Norwich and Norfolk Festival, Stockton International Festival, Greenwich and Docklands Festival, Dorchester Festival and the National Theatre in London.

What reviewers said about Little Lupin
'It's an appealing mix of absurdist whimsy and heartbreak. There's popcorn too.'
Lyn Gardner, The Guardian
Little Lupin was 'Pick of the week" twice in The Guardian
'It's quirky, clever and extremely amusing. The animation has an attractively simple feel, and there's
something slightly magical about being in an audience of only a dozen or so people.'
Timothy Ramsden, Reviews Gate
'Luci Gorell Barnes employed three distinctly hairy usherettes to unite an audience in some lupine bonding activities, before showing her beguiling and funny animation.' Venue
'The design is glorious….Richard Hughes provides accompaniment using a variety of instruments, including an accordion, tuba and even two pairs of scissors…an excellent level of comic timing…'
Carl Martin Fraser, Music OMH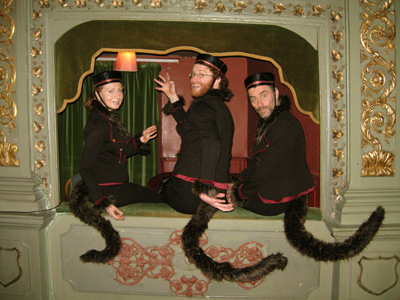 Geoff Taylor of Wide Eyed productions made this little film for the Bristol Old Vic archive.

What project partners said about Little Lupin
'As one of the Creative Producers who worked with Luci Gorell Barnes on her Little Lupin project we found the partnership very rewarding. With Luci's experience being from a more visual arts background but also with extensive performance experience we were very excited to be able to support this development of her practise. Luci is a professional, extremely talented Artist and Theatre Maker whom we have been proud to work with and to support.'
Mike Martins
Creative Producer for Outdoor Theatre and Circus, Theatre Bristol
'Working with Luci Gorell Barnes on Little Lupin has been a real pleasure. She is a unique, surprising and talented theatre-maker with a confidence and curiosity that is infectious to both collaborators and audiences alike. Her work is thoughtful, imaginative, witty and inclusive and was appreciated throughout its sell out run here by audiences of all ages.
There was a strong participatory element to the project, which I know is present in much of Luci's work – and is an area I think she approaches with real integrity and invention. I would certainly recommend this show to other programmers and producers interested in unusual, site-responsive, accessible performance for all ages.'
Kate Yedigaroff
Producer, artist development, Bristol Old Vic
'It was my personal favourite for the festival this year, and there were over 30 acts to choose from. I would highly recommend Little Lupin as a great small/mid scale show for any festival. It is different to anything else out there at the moment. It made me howl with laughter and the audiences loved it.'
Claire Teasdale, Joint Festivals and Events Manager, Bristol City Council
Little Lupin was written, designed, directed and animated by Luci Gorell Barnes, performed by Brenda Waite, Richard Hughes and Edward Rapley, with lovely music composed and performed by Richard Hughes.
Bookshed, when seen from the outside, appears to be a small, common or garden, wooden shed. There is nothing that gives away the secret of what waits within.
'It was nice inside. There was a rabbit in a cupboard. There was a lady who was kind because she gave us a cake.'
The Keeper of the Books invites the audience into the shed two at a time. They step into a magical little room and seat themselves at a polished wooden table where she offers them a choice of books.
'The audience are treated to a choice of beautiful hand-crafted books… a calm, reflective experience.'
Total Theatre
Each book is hand-made and unique, rich in imagery and texture, with tales bound together through their themes of desire and compulsion.
Bye Baby Bunting is a rag book bound in rabbit skin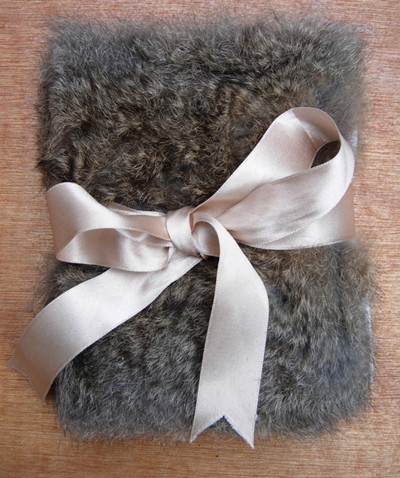 and Escapology tells the tale of a journey, drawn on maps and hidden in a suitcase.

There are books made in other books, like No Direction Home made in an old passport

and The Man with the Bear's Heart a book within a book, made in an old (and much loved) copy of Winnie the Pooh. It tells of a young man's extraordinary encounter with a bear in the forest.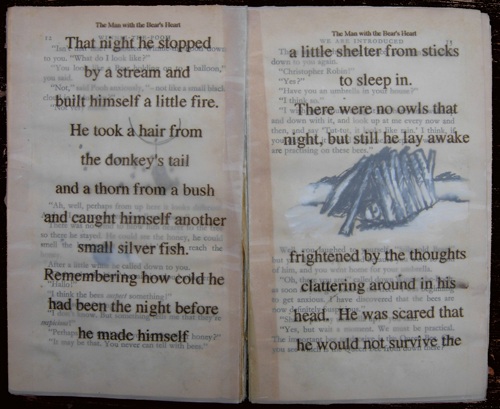 SnipSnip the Wigmaker is a story told through a wicked wigmaker's sketchbook

and The Woman who walked into the Sea is a very sad story printed onto white handkerchiefs, folded into a wooden box.

Made welcome by the Keeper, people sit for a while to enjoy the books they have chosen. As they leave she offers them a memento to remember their experience by.

Bookshed was suitable for a mixed audience, with the tales appealing to children on one level and adults on another. It toured nationally, working in partnership with a range of galleries, festivals and other organisations including Stour Valley Arts, The National Trust, The National Theatre, The Forest of Avon, Larmer Tree, Midland Arts Centre, X-trax, and Rural Touring in Wiltshire.
'I thought the shed worked really well transporting the children into a place where their imaginations had full scope.'
Mark – teacher
Bookshed in Kings Wood for Stour Valley Arts

I often run participatory workshops alongside the shed: making charcoal over a fire, drawing and bookmaking.

Whenever possible, we planted native trees at the venues that hosted Bookshed. This is a circle of trees at a primary school in Bristol where we did our first show…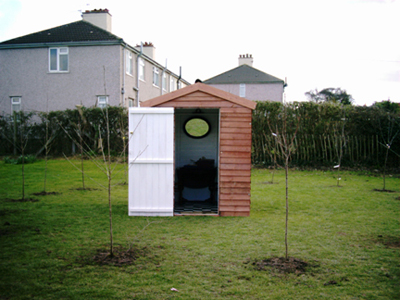 …and now, several years later, they are well established.

What people said
'The shadow that your shed sheds is long, dark and beautiful.'
'Moving and funny with a distinctly magical feel.'
'It was nice inside. There was a rabbit in a cupboard. There was a lady who was kind because she gave us a cake.'
'A hideaway to read and think… lovely.'
'Magnificent! 'Snip-Snip' – a terrible moral allegory for our times and delicious ginger cake.'
'What a wonderful space! We read 'Ali and the Bear' – such a beautiful story – your drawings are so powerful yet simple. Such a calming place. Thank you. I love it!'
'It was a glorious combination of the bizarre and the hilarious.'
'Little shed, little shed, what a wonderful moment of tranquillity amongst all the mud. Thank you so much.'
Starletta and other Outlaws is a series of paintings that I exhibited in my cottage tent pitched in St Werburghs City Farm's community garden. These are a series of paintings done on old OS maps, and try to make a connection between stories and places.
I often run participatory sessions alongside showing my own work, and as part of this exhibition I invited the audience to make maps of their own.

The Imagination Project
I turned Centrespace Gallery in Bristol into a wood to create an immersive experience of the work we were doing at Speedwell Nursery School.

Moonwalk had performers acting as guides leading people through a woodland installation which explored ideas about fear, marginal spaces and 'lone wolves'.


The event took place in Penpole Woods just outside Bristol, on a night with a full moon.

The Tin Mission was in memory of the old tin mission hall where local people used to watch magic lantern shows and enjoy cold roast potatoes, we set up a cinema tent and showed a selection of short films made by artists with local connections.