I am interested in finding intimate ways of showing work and often collaborate with performers to welcome and involve audiences in unexpected ways, and here are a couple of examples.
The Tragic and Disturbing Tale of Little Lupin is an outdoor promenade theatre performance which centres around a hand drawn animation, screened in itinerant cinema run by wolves. It tells the tale of a girl who is not like others and how life in the wild can take unexpected and sometimes rather unpleasant turns. With its roots in the dark, rich soil of fairy tales the show is for people who have ever strayed off the beaten path and into the woods.
Little Lupin was commissioned for a national tour by Theatre Bristol, Bristol Old Vic, and the Bristol Do with support from Without Walls and Arts Council England. It was written, designed, directed and animated by Luci Gorell Barnes, performed by Brenda Waite, Richard Hughes and Edward Rapley, with music composed and performed by Richard Hughes.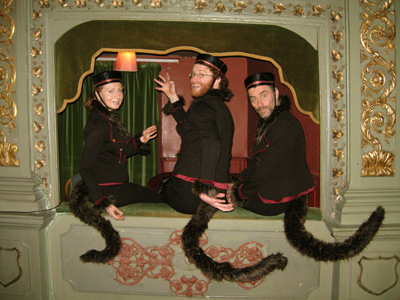 Trailer for Little Lupin, narrated by Ali Hughes
Comments and reviews
"It was my personal favourite for the festival this year, and there were over 30 acts to choose from. It made me howl with laughter and the audiences loved it." Claire Teasdale, Festivals and Events Manager, Bristol City Council
'Luci's work is thoughtful, imaginative, witty and inclusive and was appreciated throughout its sell out run here by audiences of all ages.'
Kate Yedigaroff, Producer, artist development, Bristol Old Vic
'It's quirky, clever and extremely amusing. The animation has an attractively simple feel, and there's something slightly magical about being in an audience of only a dozen or so people.' Timothy Ramsden, Reviews Gate
'The design is glorious….Richard Hughes provides accompaniment using a variety of instruments, including an accordion, tuba and even two pairs of scissors…an excellent level of comic timing…' Music OMH
'Loved the show! Really inspired and inspiring…just what theatre should be like all the time.' Audience member
Bookshed
Seen from the outside, there is nothing that gives away the secret of what waits within. Then the Keeper of the Books invites the audience in two at a time, and seats them at a polished wooden table where she offers them a choice of books. Each book is rich in imagery and texture, with tales bound together through their themes of desire and compulsion.

Bye Baby Bunting is a child's rag book bound in rabbit skin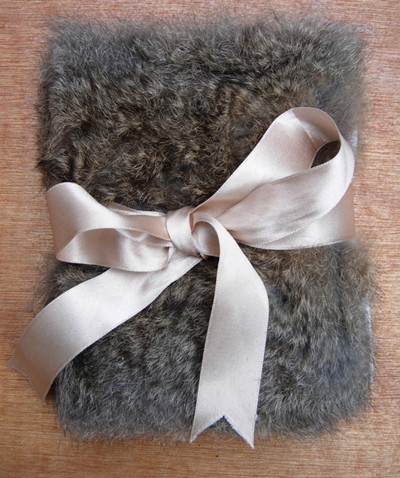 No Direction Home is a story about belonging made in an out of date passport

The Man with the Bear's Heart is a book within a book. Made in an old (and much loved) copy of Winnie the Pooh, it tells of a young man's extraordinary encounter with a bear in the forest.

The Woman who walked into the Sea is printed onto white handkerchiefs, folded into a wooden box.

Bookshed toured nationally, working in partnership with a range of galleries, festivals and other organisations including Stour Valley Arts, The National Trust, The National Theatre, The Forest of Avon and Midland Arts Centre. We offered participatory workshops alongside the shed: making charcoal over a fire, drawing and bookmaking, and whenever possible, we planted native trees at our host venues. Below is a circle of trees we planted at a primary school in Bristol where we did our first show…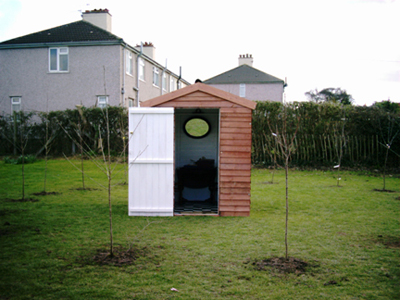 …and now, several years later, they are well established.

Comments and reviews
"It was nice inside. There was a rabbit in a cupboard. There was a lady who was kind because she gave us a cake." Audience member
'Little shed, little shed, what a wonderful moment of tranquillity amongst all the mud. Thank you so much.' Audience member
'The audience are treated to a choice of beautiful hand-crafted books… a calm, reflective experience.' Total Theatre
'I thought the shed worked really well transporting the children into a place where their imaginations had full scope.'Mark – teacher
'The shadow that your shed sheds is long, dark and beautiful.' Audience member
'Moving and funny with a distinctly magical feel.' Audience member