My visual and written work appears in journals, books and websites and covers a range of forms including poems, short stories, paintings, a book cover, case studies and academic writing.
List and links: published work
2019 'Voicing waters: (co-)creative reflections on sound, water, conversations and hydrocitizenship' with Owain Jones and Antony Lyons in Doughty, K.; Duffy, M. & Harada, T. (Eds), Elgar.
Here is a link to the book
2019 Two paintings accompanying Iain Biggs's Five Notes on Thinking Through 'Ensemble Practices' in ClimateCultures – creative conversations for the Anthropocene
Here is a link to ClimateCultures
2019 'Slow Flow: a layered mapping workshop' with Iain Biggs in Povall, R. (Ed) Liquidscapes, art.earth, 131-137.
Here is a link to art.earth
2018 'This Long River' in Roberts, E. and Phillips, K. Eds. Water, Meaning and Creativity: Understanding human-water relationships, Routledge, 36-53.
Here is a link to the book
2017 'The Lane' in Uniformagazine 9, Uniformbooks: UK.
Here is a link to Uniformagazine
2016 Working with small groups of children on the allotment in Settings-Based Research.
Here is a link to Bristol Early Years Research
2014 'She goes to pray' in anthology, Teaching as a Human Experience, Cambridge Scholars Publishing.
Here is a link to a sample of the anthology
2014 'Writing from the margins of myself', International Journal of Qualitative Methods 13, 237-254.
You can download my paper here.
2013 Hand drawn map for the cover of Carrie Hitchcock's 'The Story of the Yard: Building a Community'published by Tangent Books.
Here is a link to the book.
2007 'Bookshed and Books' in Bodman, S. (Ed) Artist's Book Yearbook 2008-2009, Impact Press at The Centre for Fine Print Research, UWE: Bristol.
Here is a link to the book.
Excerpts from published work
This Long River
In early November 2013 I began an inquiry about how stories told to me by my neighbour Jean had contributed to my sense of belonging in the valley where I now live. On November 16th Jean died and my inquiry shifted into a process of grieving. Some of Jean's most vivid memories focused on a nearby stream that is now culverted, and I used creative mapping processes in an attempt to reaffirm my sense of belonging, and combine Jean's memories of the stream with the one flowing in my imagination.

The lane
The lane was published in 2017 in Uniformagazine 9 by Uniformbooks. It is an excerpt from The Stinging Nettle Atlas, a collection of written and visual maps about my childhood on the North Downs in East Kent with my 5 sisters, and explores themes of girlhood, place and freedom.

Writing from the margins of myself
In my studies at the University of Bristol, I took part in an experimental process of free writing, and my paper begins with the short story that emerged from this. We discussed ethical issues that might arise from writing as inquiry, and in the commentary that follows my story, I reflect on how this practice requires an awareness of care for self and others. I describe my process, and discuss how it allowed me to transcend my dominant voice and restructure some of my ideas about what I study. I propose that by writing fiction I was able to consider complex issues in a way that opened up multiple meanings for me, and offered different views into social experience. I was guided by my practice as a visual artist and inspired by the writings of Ursula Le Guin (2004), Miller Mair (1989), and Ronald Pelias (2004), who encouraged me to listen in an empathic way, and write from the heart.

She does not see that they sat in their chairs all night like so many nights before. They cannot go to bed while she is out there. They sit upright in their stiff clothes. Guard dogs, neither sleeping nor awake.

The woman brushed the girl's long green hair.
'Ouch!' said the girl. 'It's tangled.'
'The tangled bit is behind you. Keep looking forwards.'
This paper is published in the International Journal of Qualitative Methods, a peer reviewed journal published online by the the International Institute for Qualitative Methodology at the University of Alberta, Canada, and its international affiliates. It is a multi-disciplinary, multi-lingual journal, free to the public. By keeping the journal free of charge, they hope to broaden their audience to include individuals who, for whatever reason, do not read traditional, subscription-based journals.
The Story of the Yard
Carrie Hitchcock's book tells how ex-industrial land in St Werburghs, Bristol was turned into a site of sustainable self-built housing, through the stories of the people involved. My hand drawn map shows each house and how the site is bordered by Boiling Wells Lane and the railway line; features that contribute to the rural feel of this part of the city.
She goes to pray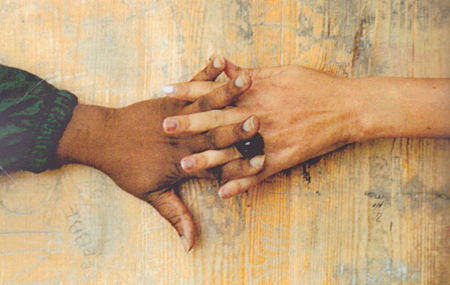 I am interested in exploring different ways to discuss experiences experiences of teaching and learning, and this poem is published in the anthology Teaching as a Human Experience by Cambridge Scholars Publishing.
The first week
I lay out crayons and paper.
The other women grab them, but she sits still.
Her left forearm has a latticework of scars
(It's the right forearm if you're left-handed).
I slide a sheet of paper towards her,
'I can't draw,' she says.
Her thin brown hand touches one of the craters on her cheek
That looks like it was made with a cigarette.
At 3 o'clock, she goes to pray.
The next week
I bring the beautiful paper my sister brought back from Japan,
Spread it out in a fan.
The window bars throw striped shadows across the battered table.
The other women make cards to send their children.
At 3 o'clock, she goes to pray.
The next week
I bring a small box of printing blocks.
She lifts the lid and closes it again
Almost immediately.
At 3 o'clock, she goes to pray.
The next week
She opens the box and picks out a tree.
I slip her some paper, and she makes a single print on it.
At 3 o'clock, she goes to pray.
She returns and presses a flower block into the inkpad.
Press, paper, press, pad, press, paper, press, pad, press, paper…
Until there is a blanket of flowers under her tree.
The next week
She prints birds in the branches.
At 3 o'clock, she goes to pray.
She returns, and pushes her paper aside.
The next week
I hand her the picture.
She picks up a pencil and draws clouds above the tree,
Then rain.
I sit by her and we look at her drawing.
'You can draw,' I say,
Turning towards her.
Then I see there is a perfect crescent moon shape
Missing from her right ear
Where someone has bitten straight through it,
Like an apple.