The Atlas of Human Kindness is a ongoing collection of maps created by participating groups and individuals, telling stories of where and when people have experienced acts of kindness. The ethos of this project is rooted in our connections with one another and in resistance to cynical politicians who tell us otherwise.


Acts of kindness seem to be characterized by a concern about the rights, feelings and welfare of other people. The maps people make go some way towards representing what they experience as kindness and how this occurs; marking sites where people have felt cared for by others.
I show the maps from the Atlas in interactive and discursive ways, offering continued participation and debate. If you think that you or your group would like to be involved in The Atlas of Human Kindness please get in touch with me via the contact page.
Making maps
Our experiences are outlined by physical boundaries, and our surroundings take on particular meanings through our interactions within them. Narrative maps record what our experiences have written on the landscape, marking where stories, memories and imaginings intersect with place. Personal landscapes can feel fragmented and creating narrative maps is a way of capturing and organizing individual experience, positioning events in relation to each other.
Maps can show us routes we have taken and enable us to see how we are situated in our worlds. They can support us to navigate our values and connections, encouraging conversations about how we live together, what we see as community, and how we experience ourselves in relation to wider social networks.
Participatory sessions
I work alongside others to develop the connectivity, visibility and access capabilities of the Atlas. One partner was Expressions, a creative arts programme run by Milestones Trust. They give practical support and encouragement to individual artists within the Trust, and provide opportunities for all to participate in and experience the creative arts. see more about Expressions here

Another of the Atlas's participating groups has been Branching Out who meet weekly at Speedwell Children's Centre. I facilitate their collaboration in creative projects and cultural exchange through art inquiry. The group aims to have a positive impact on social isolation by inviting self-expression, and supporting people to develop friendships and build positive networks for themselves and their families.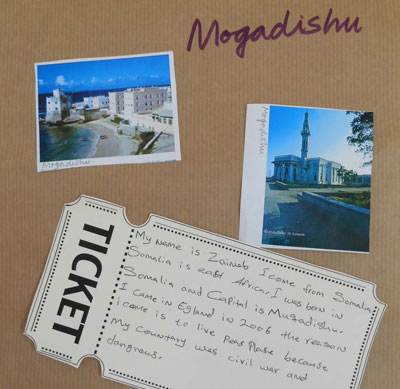 We have worked on creative projects about home, identity and belonging. Asking the questions
What place did you first call home? and What brought you to Bristol? we have shared stories of how people came to be here and what acts of kindness – or unkindness – they encountered as they made this city their home.
Informal mapping event: cartographers of compassion
One weekend I put up a workshop tent in the street outside my house, taped a large sheet of blank paper to a table top and invited people to contribute stories of when and where they received kindness from another person.
This spontaneous mapmaking acted as a forum for people to exchange their memories, thoughts and feelings about their experiences of care and connection.
Over the weekend we made 2 maps and started to see where and when kindness happens, and who is doing it to whom. There were many conversations over the 2 days, and the overwhelming majority of people were eager to talk about their desire to feel connected with others.
Acts of kindness seemed to help people feel a sense of belonging, often transforming a situation of alienation into one of connection. Many people were moved both by recalling acts of compassion they had received, and by hearing of those which had happened amongst others.
Inevitably some people expressed some difficult feelings about kindness. For example, the comment below was made early on the first day and the person who made it initially said she could not participate because the thought of recording kindness made her feel so angry. However, she did add to the map and over the course of the day her contribution received much empathy and many people mapped their own stories in relation to it.
Comments from mapmakers
It's nice to have a moment to consider and be grateful for kindness, human interaction and perspective.
A very positive approach – thank you.
Brilliant to see a creative approach to maps and people(s) and inclusion/exclusion and particularly the moment when this is transcended.
A lovely feelgood part in the day, reflecting and remembering lovely occasions and kind people we have come across.
Some acts of kindness are unexpected (and sometimes even unwelcome) but I guess it is as important to the giver as the receiver?
Community – yes – yes – yes – long may it continue.
The theme of geography/location and stories/memories moulds together experiences that are valuable and prompt us to bring acts of kindness to others.
It is a wonderful opportunity to thank that random person for their kindness, twenty years later. So thank you for the randomly kind opportunity.