I use sketchbooks for a variety of different things. Some are like journals, and after I do some work I take a few minutes to document it in order to reflect on I've done and what I think I will do next, and I think of these as 'workbooks'. I photograph what I'm working on, stick the picture into a hardback sketchbook, and write down my thoughts. Others are more like traditional sketchbooks – a place where to try things out and jot down ideas – a bit like a visual diary, and sometimes (not very often) I draw things from life. Here are some examples of both.
It can be very easy for fledgling ideas to get a bit lost and I find this process of writing and sticking in pictures helps me to notice things, give them some time and think them through. Over the years I have accumulated a lot of workbooks and they are invaluable in helping me to understand my own working process.
When ideas are new they can seem so flimsy that it can be hard to see that they could ever grow into a finished piece. However, I go back to old workbooks and look over the whole process of something I've completed – from start to finish – and I can see the gestation of an idea and its development from the germ of an ideas into something fully formed. In her book Hold Still, Sally Mann writes about emerging ideas vs completed ones.
'Soon I encounter another obstacle: the new work, so precarious, unformed, and tender, is being subverted by my old work, which was itself once precarious, unformed, and tender but with the passage of time has now taken on a dignified air of inevitability. The new work has none of that apparent effortlessness, the after-the-fact infallibility that the old work so confidently glories in.'
Documenting my own work lets me understand the different phases in a project. For example, near the end of a project I sometimes have a crisis of confidence where I feel like abandoning the work, and my books have taught me that this feeling will pass and not to lose my nerve.

These reflections help me understand the content of my work because I can see the threads of my own thinking as I write.
Sometimes I put in images of other people's work that is inspiring or guiding me in some way with my own.

Somehow writing about my work is very different than just having the thoughts going round in my head. It's like having a little conversation with myself about the work, and I find that very useful.

In other books, it's all a bit more lighthearted and more of a place to play.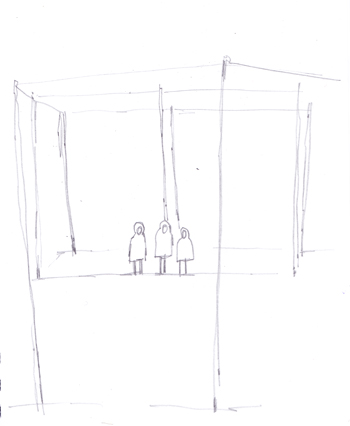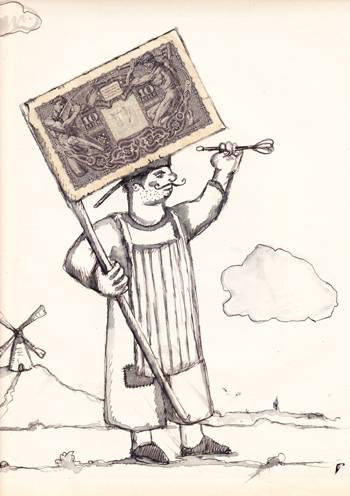 A while ago I walked part of the Camino de Santiago, which is an ancient pilgrim route that ends up in Santiago in north west Spain. While I was away I kept a diary with drawings.

One of the places we stopped in, Estella, had the most vibrant town square I have ever seen.

This was what our bus journey was like back through the Pyrenees. The landscape reminded me of a Dr Seuss illustration.