Hidden Waterways and daylighting was one of the Bristol strands of the Arts and Humanities Research Council, Connected Communities Programme; Communities, Cultures, Environment and Sustainability Large Grant Towards hydrocitizenship. Connecting communities with and through interdependent multiple water issues (2014-2017). It took an innovative and multidisciplinary approach to intergenerational arts-based research.
One of the exciting things about this project was the way in which it evolved and how I was supported to follow my nose as an artist/researcher. This approach meant we extended the scope of the Daylighting strand more than we had originally anticipated. For example the young people presented their development ideas to planners, councillors and developers, we had an exhibition of the work at Windmill Hill City Farm, and also showed it at the Connected Communities conference and as part of the Being Human festival. We are currently working on a academic paper about the process and I have made an interactive version that you can click into right here.
For a fuller and up-to-date account of Hidden Waterways and daylighting and the other research strands of the project you can click onto the Water City Bristol website here.
https://www.watercitybristol.org/hidden-rivers-and-daylighting.html
Alternatively you can read a less detailed version of the Hidden rivers and daylighting strand of the project in the post below.
On this strand we thought about daylighting two local rivers, which in the physical sense, is where culverted rivers are brought back above ground. We also considered 'social' daylighting where older people's stories of the rivers were brought into the open. We had a particular concern for revealing voices that often go unheard, and I designed creative mapping processes in order to have conversations about people's past, present and future relationships with their local waterways. I delivered these sessions alongside Katherine Phillips and Helen Adshead. Katherine was Research Associate on the project and Helen brings groups together to consider issues of wildlife, conservation and rivers in their local environment.

The Malago at Clarke Street
Creative conversations with older people
We had creative conversations over a number of sessions with local people, focusing on the Malago and Colliter's Brook, two rivers that flow through South Bristol. We engaged with two local primary schools and three older people's community groups (Memories of Be'minster, Making Time and Windmill Hill City Farm Older People's Group) as well as in the less formal settings of the launderette run by Pet on North Street and Victoria Jane's hair salon just down the road.

Marilyn in the launderette

Victoria Jane's hair salon has original decor from the 1940s, she does a great haircut at very reasonable price (I always get mine done there now), and offers a caring service to older members of the community.

Beryl from Windmill Hill City Farm Older People's Group

Linda from Windmill Hill City Farm Older People's Group
We talked about how it might be if the river was daylighted.
Sue: Is it possible?
Jenny: Wildlife would come back, but you refresh it and get it all lovely and then they come along and dump things there.
Sue: A couple of crafty cameras to catch people. It's disgusting if you go down Dundry way.
Jenny: It couldn't happen with all the cutbacks, but it shouldn't be because it's our environment, our mental health…
Sue: We'd get shrimping nets and jam jars like when the kids were little…
Beryl: I'd like it – would you? I'd like it.
Sue: I'd like it too. The other night I sat by Keynsham. They had picnic table and that. I sat with a nice Pimms by the river.
Mina: My daughter's near the Malago
Linda: When the Malago was flooded –
Jean: Oh no, don't talk about that!
Tales of two rivers
On places like Clarke Street where the Malago is overgrown with buddleia and obscured by a wall, it is easy to forget it is there at all. However many of the older people knew the rivers very well and shared detailed memories with us. Here are some examples of the stories we were told, which I illustrated and produced as a book.
Working with young people
We worked with two local primary schools – Ashton Gate and St Mary Redcliffe – and encouraged the young people to map what was important to them about their neighbourhood. We discussed map-making and I showed a selection of mine, choosing ones that focus on how my childhood landscapes were written through what I experienced in them. As Taylor (2004) writes 'This is why landscape and memory are inseparable because landscape is the nerve centre of our personal and collective memories'.
Maps about childhood
This one maps approximately a three mile radius of where I grew up and is notated with a number of observations and incidents that took place in my childhood.

This map combines a specific childhood memory of going to a cafe with my mum, with a map of a brain – in particular the the hippocampus and temporal pole. These play important roles in the consolidation of information from short-term to long-term memory, and in spatial memory that enables navigation.

I hoped that by showing maps that value my own childhood experiences the students would feel confident that their own perspectives were going to be welcomed and respected. The young people then made their own maps representing spatial aspects of their lives, including significant memories and the locations of family and friends, favourite shops, parks and secret dens. They were all beautiful and interesting – here are some of them.
Personal narrative maps


Maria's map

myna's map

Vikram's map
Field trips
We went on field trips to the rivers and Helen helped us to observe the existing wildlife and think about how the river might be improved for both wildlife and people. The students worked in small groups noting their observations in little concertina books and taking photographs.moved the process into creating planning maps that outlined the children's ideas of how they would like to see their local area developed in the future.
The concertina books we used on our field trip can be very useful to take notes in when you are out and about. They are very simple to make and easy to display. Instructions for making one for yourself are available on this pdf.
Planning maps
In the next session Katherine and Helen showed the students examples of river wildlife, daylighted rivers and sustainable drainage systems. They then brought this information together with their maps and observations from the field trip creating maps to suggest ways that the area might be developed with the river restored and flowing freely again. The maps included many detailed thoughts including how the river banks might be planted to provide wildlife habitats, leisure and recreational activities, and how social enterprises might form part of the local economy.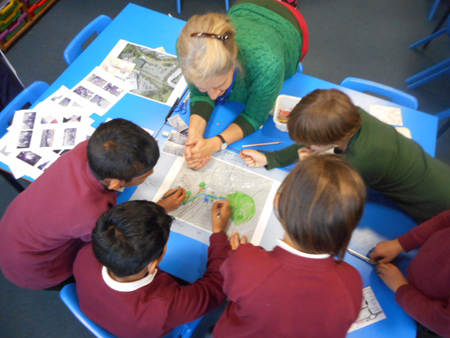 Project journals
Throughout the process I have kept a project journal, which I find to be an invaluable way of keeping track of different aspects of the process, as well as letting participants see where their contributions fit into the bigger picture.