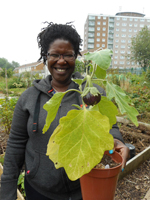 "I didn't know what was lacking but I knew I needed to find it. Then I found Companion Planting. This changed my life. It helped my head."

In January 2015, as part of my work with Speedwell Nursery School and Children's Centre I took on a Council allotment as an action research project that looked at whether we could use the plot to bring people together to connect with the natural world and encourage them to grow some of the food they consume.
There is a way of gardening called 'companion planting' where different plants are grown together that are of mutual benefit. I borrowed this name for our project because I feel that it echoes our ethos of coming together to share skills and celebrate cultural differences in ways that foster respect and understanding.
Here's a timeline film of the work we did in the first six months of having the allotment.
I run weekly open access sessions for local families, based around gardening and creative practice. Some are born and bred Bristolians, whilst others have fairly recently arrived in the UK – some for employment, some as students, and some as refugees or seeking asylum. In the sessions children and adults work alongside each other doing real jobs, learning real skills and gaining the confidence, sense of ownership and belonging that accompanies such shared endeavours.


Five years on – and we now have three adjacent plots. One is being developed as a wildlife orchard, with fruit and nut bushes planted amongst native wildflowers chosen for their pollinator friendly features. On the other two plots we grow herbs, fruit and vegetables and have a willow den, propagation space and our social areas.

We use organic gardening methods and a no dig approach, which is sympathetic to soil biology and good for retaining moisture. Crucially however, Companion Planting is not a gardening project; rather it is about social inclusion with gardening and creative practice as the medium. While we tend the plot and share cups of tea or food cooked over the fire, we talk about the things that matter to us and by sharing memories, ideas, and ambitions, powerful social bonds are formed.


We find much to celebrate, including people's birthdays, Eid, when people get leave to remain in the UK, Spring Equinox and Apple Day. These traditions offer us a sense of meaning, enjoyment and belonging and they don't seem to take long to establish, and I have wondered if they become embedded particularly fast when people are trying to put down roots in a new place.


You can download a worksheet from Apple Day here
Coming regularly to sessions fosters a sense of ownership in adults and children alike, and people take increasing initiative as their confidence builds. For example accessing the resources, lighting the stove, picking mint to make tea, drawing with chalk on the path, reading about gardening and harvesting produce as well as suggesting their own activities, like the basket making below and mulching below.


Participants' and visitors' comments
"I like this group. I do enjoy. I very, very enjoy. I'm waiting every Thursday to come. Every Thursday I come here. I so enjoy. My son so enjoy and make friends."
"I come home after learning a nursery rhyme or a song in a different language, or just hearing everyone's experiences of growing up in different places and it makes me feel connected and rooted in the area for sure. If I come to the group feeling under the weather or down, I always leave feeling uplifted and cared for."
"It has been the strong sense of community spirit and kindness that I have found to be most beneficial. Not to mention the simple reward of tea and a biscuit!"
"We had a great time today. The weather kept turning, we kept dancing. Fun times."
"Coming to this group I practice speaking English and meet other women. Speaking sharing new ideas and have fun. It build confidence and I learn new skills and everything good I learn I will reflect it to my family. I make friends and am learning from them or knowing about their cultures. We are more than a group, like becoming a family."
'Staff are also passionate about involving parents in their children's education as well as giving them chances to extend their own learning. A key player in this is the school's artist in residence. Her tremendous enthusiasm has inspired many children and parents to be very involved in community projects such as making stunning artwork and planting and growing in the school's allotment.'
Ofsted inspection report: Speedwell Nursery School
'It was so wonderful to actually get to see the allotment being used. It felt a very safe, supportive and welcoming space to be. Please may I have the recipe for the delicious marrow cake?'
Beth Osborne, Foundation Years Consultant
'I was lucky enough to visit on the day of the Eid Celebration. Adults brought food to share at the mid-morning break and one mum was expertly giving henna patterns to those who wanted it. This project is very inspiring. I was overwhelmed by the atmosphere of calm, support and care. The children were so involved and independently happy and absorbed. There was an overall atmosphere of well-being and belonging. It will remain with me for a long time. It is an amazing project.'
Pippa Hawkins, Bristol Early Years Outdoor Research Network


Sessions with our nursery children
In addition to the family sessions, we bring small groups of our nursery children here. They enjoy being outside and taking care of the allotment, and are particularly keen on watering plants and picking fruit and vegetables. The lay out means they are able to act quite independently, which leads to excellent problem solving, for example how to turn on the tap, steer a wheelbarrow or carry a full watering can without spilling any.
To find out more about our work with the nursery children you can go to the Bristol Early Years Research and read a report there.

Bad Maman is a fundraising inititative related to the allotment project. We make delicious preserves from foraged and homegrown fruit that we sell to raise money to support women and children who are seeking asylum. We have raised over £8,000 to date, and to find out more about this aspect of the work click here.

Speedwell Allotment on Points West from Luci Gorell Barnes on Vimeo.