These recent drawings have come out of some thinking I have been doing around our ideas of human supremacy. In them I am exploring some of the ways in which humans and non-humans are interconnected, and the many overlapping communities that we co-exist in.
To make these drawings I put organic materials onto sheets of watercolour paper and kept it all damp for several days to encourage the transfer of marks. I then rinsed the paper and let the drawings emerge from the traces the organic matter had left behind.
Coexistence
This drawing was prompted by a large visitation of wasps to the Companion Planting allotment. I chose chipped wood and jam as the organic matter because wasps make their nests from wood, and they search for sugary things in the late summer months once their larvae have all hatched. I also used the yellowing maps of an old A to Z of Bristol as collage material.
Akin
I made this drawing to explore the similarity of shapes and patterns that occur in the human and non-human world.


Akin: compost, strawberries, Letraset, pencil, watercolour and gesso on paper


Bee detail


Spine and frond detail
The Lord encompasses all
As I drew I thought about the lines we impose upon the world as we chop it up into economically viable segments. George Monbiot (2016, 92) writes,'Now almost every aspect of our lives is lived within grids, either concrete or abstract. Linearity, control and management dominate our lives. We fetishise progress: a continuous movement in the same direction. We impose our lines on the messy, contradictory and meandering realities of the human world, because otherwise we would be completely lost in it.'


Soil and spent hops on paper


The Lord encompasses all: soil, hops, printing ink, pencil, watercolour, acrylic and gesso on paper


Compasses detail
I am done with apple picking now
My friends make the award winning Trinity Cider, and their mission is 'to create the best cider in the world from 100% apple juice'. Picking, chopping and pressing the apples is a collective activity, with lots of hands getting the work done. To make this drawing, I laid a sheet of paper on the table and the marks on it come from the apple juice and knife cuts as we chopped. The title comes from Robert Frost's poem 'After Apple-Picking'.


Chopping apples


I am done with apple picking now: knife marks, apple juice, watercolour, pencil and gesso on paper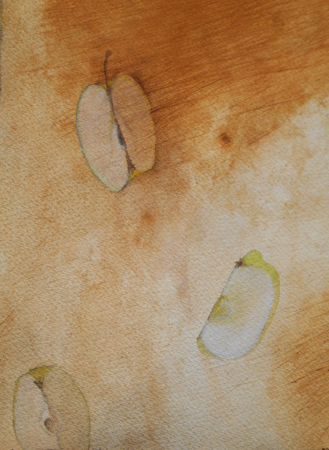 Quarter apples detail


Colander detail


Hands detail