These new drawings have come out of some thinking I have been doing around our flawed (and ultimately disastrous) ideas of human supremacy. In them I am exploring some of the ways in which humans and non-humans are interconnected, and the many overlapping communities that we co-exist in.

Akin
In this first drawing I put compost and cut strawberries onto a sheet of paper, soaked it in water and left it outside. This was in June and there was no rain, so I kept spraying it with water to encourage the materials to transfer marks on the paper After several days I rinsed it off and tried to follow the traces that the materials had left, letting the picture emerge from where they led me.


Akin: compost, strawberries, Letraset, pencil, watercolour and gesso on paper

Bee detail

Spine and frond detail
The Lord encompasses all
When I was a teenager my local pub was called The Compasses. The sign had a huge 'God' holding a pair of compasses in one hand and planet Earth in the other, with 'The Lord encompasses all' written underneath – and this left quite an odd impression on me after wild evenings drinking Biddenden cider. The text in my drawing comes from Genesis 1:26 (King James Version of the Bible) and I think it's a real shame we've taken quite so much notice of it.
As I drew I thought about the lines we impose upon the world as we chop it up into commercially viable segments. A little while later I was reading How did we get into this mess? by George Monbiot who seems concerned with similar ideas. He writes,
'Now almost every aspect of our lives is lived within grids, either concrete or abstract. Linearity, control and management dominate our lives. We fetishise progress: a continuous movement in the same direction. We impose our lines on the messy, contradictory and meandering realities of the human world, because otherwise we would be completely lost in it.' (Monbiot 2016, 92)
I used soil and spent hops to make the marks on the paper. My son didn't realise what I was doing and moved it, dislodging the materials, so the marks are fainter than they might have been – but I like this random intervention.


Soil and spent hops on paper

The Lord encompasses all: soil, hops, printing ink, pencil, watercolour, acrylic and gesso on paper

Compasses detail
I am done with apple picking now
My friends Richie and Deekey make the award winning Trinity Cider and their mission is 'to create the best cider in the world from 100% apple juice'. Picking, chopping and pressing the apples is a collective activity, with lots of hands getting the work done. To make this drawing, I laid a sheet of paper on the table and the marks on it come from the apple juice and knife cuts as we chopped.
I took the title for the drawing from Robert Frost's poem 'After Apple-Picking' – here are some lines from it.
My long two-pointed ladder's sticking through a tree
Toward heaven still,
And there's a barrel that I didn't fill
Beside it, and there may be two or three
Apples I didn't pick upon some bough.
But I am done with apple-picking now.

Chopping apples

I am done with apple picking now: knife marks, apple juice, watercolour, pencil and gesso on paper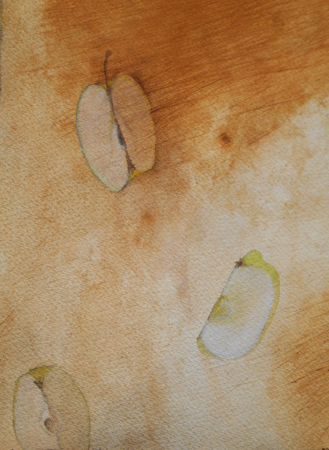 Quarter apples detail

Colander detail

Hands detail